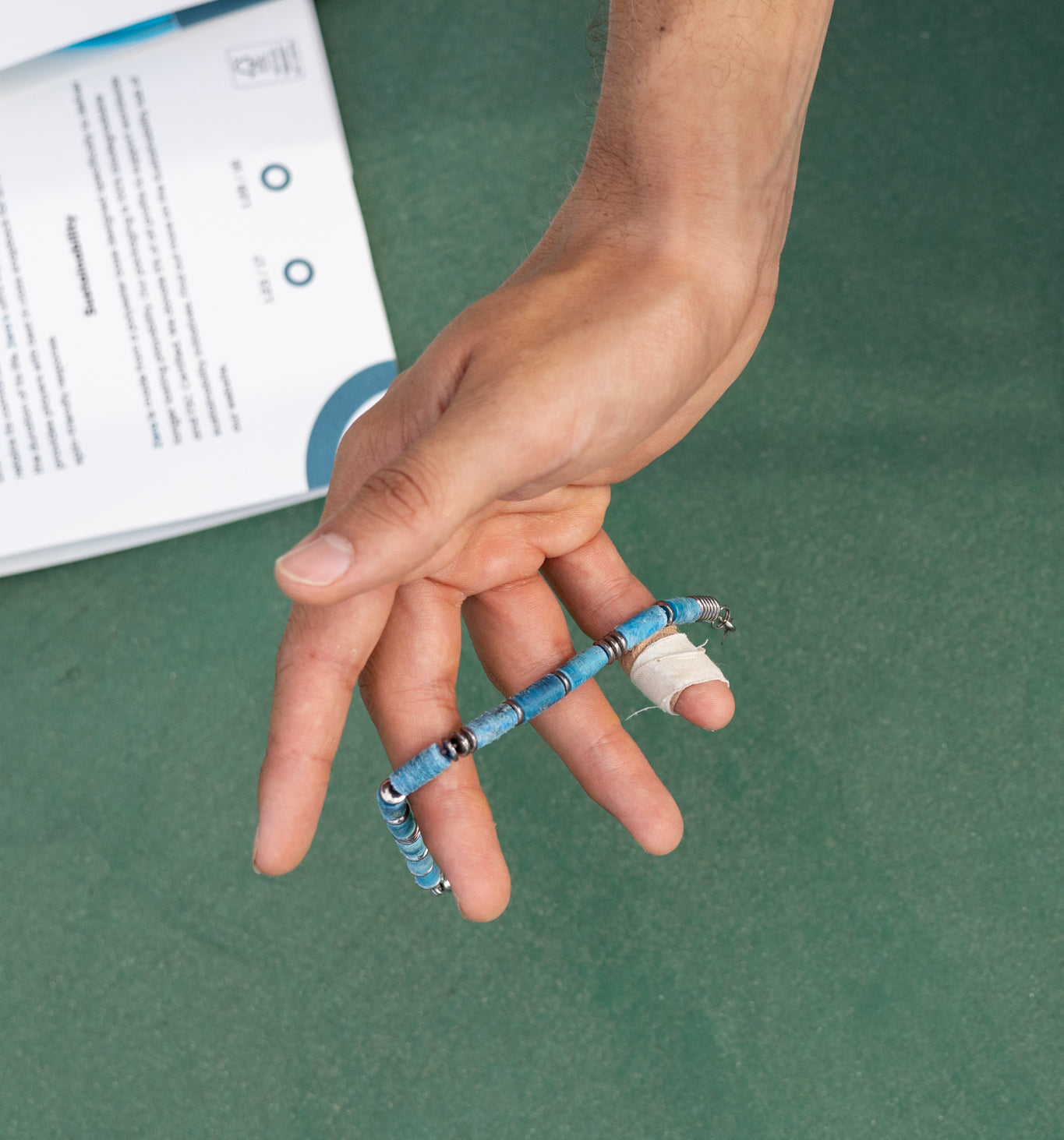 PROJECT 01: UPCYCLE AND REPURPOSE - BRACELETS MADE FROM RESTRING ZERO
For a brand which values sustainability, the ultimate goal is to achieve circularity. Being able to re-use materials from start to finish and extend the "cycle" of our products. Although we're still a long way from the sustainability goals we strive for, up-cycling and re-purposing our broken strings in this way helps point us in the right direction.
Collecting our broken strings, we break them down into small beads and then use those to create unique bracelets so you can now wear your string!
COLLECTING

Collect and compile our broken strings

CLEANING

Clean the strings removing debris

Shaping

Shape into beads and tubes
using a melting and compression process

Arranging

Arrange by shape and craft bracelets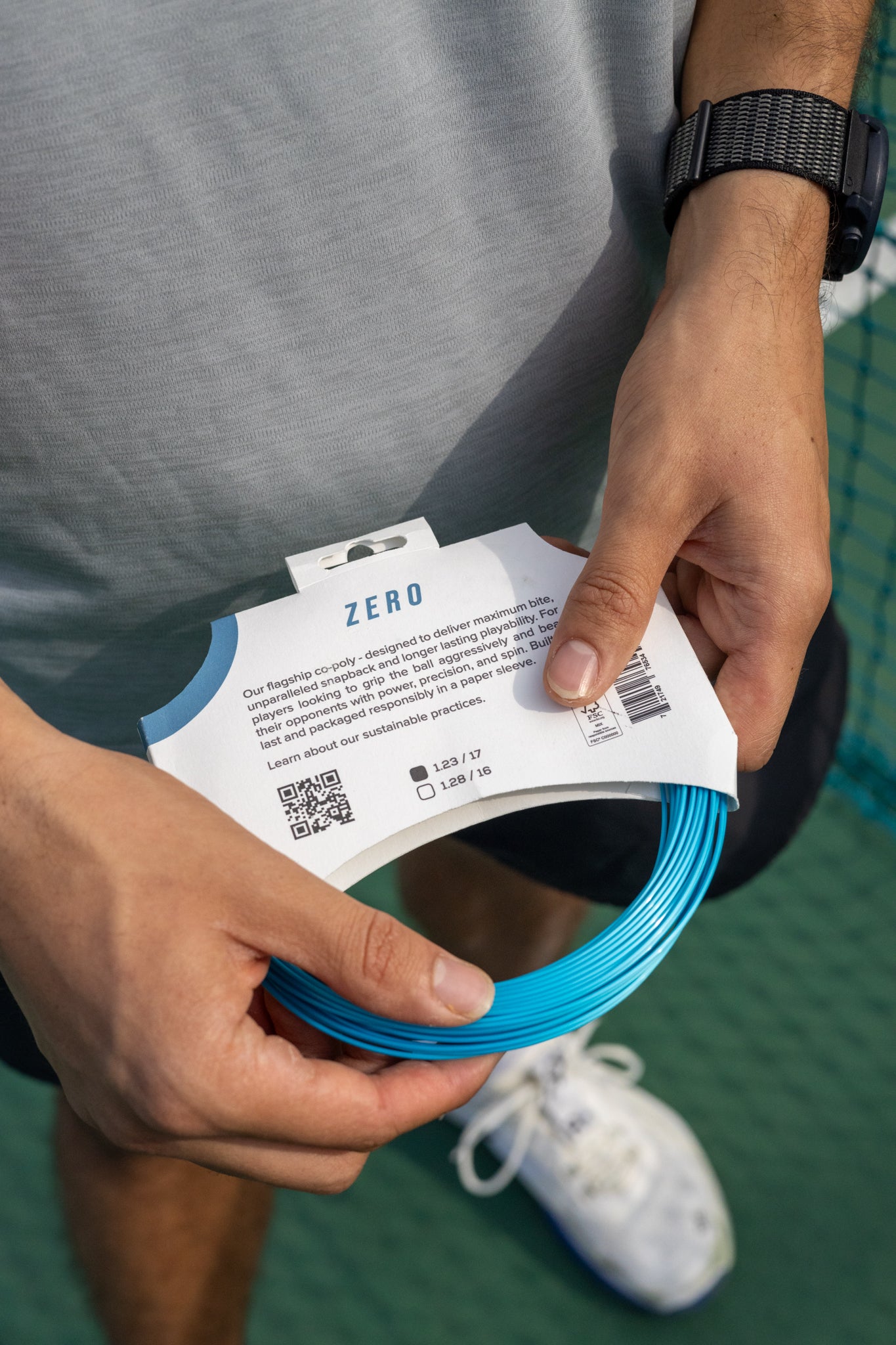 PROJECT 02: A BETTER PACKAGING FOR THE PLANET
A fresh packaging design, an embodiment of our innovation and commitment to performance and sustainability. A completely new design seen in tennis, pioneered and developed exclusively for ReString. Built around 3 design core pillars, helping reduce our environmental load on the planet yet also remaining highly functional and beautiful.
SUSTAINABILITY

By rethinking what a tennis string is, we've designed our packaging to be fully biodegradable working with fewer materials leading to a lighter load on the planet. Our new packaging uses half the paper content of its predecessor contributing to less waste. Made from recycled paper and FSC certified.

FUNCTIONALITY

As a performance oriented brand, we understand that practicality is a top priority for athletes. Our new design remains highly functional - seamlessly allowing the strings to slip in and out of the packaging, it's quick, it's easy, and it just works!

BEAUTY

Apart from serving environmental and functional benefits, we wanted to bring a unique and captivating experience to our customers. Minimal and sleek, our design adds a touch of elegance to your game. We believe that beauty should be part of every aspect of your tennis!
May '23 - Pen on paper

Very first concepts for our new packaging
built around 3 core design pillars

Jun '23 - Digital Mockups

Finalize concept digitally
Apply brand logo and colors

Sep '23 - Prototypes

Time to test our prototypes!
Multiple iterations to perfect size and fit

Dec ' 23 - launch

Ready for launch!
Can't wait to have customers try!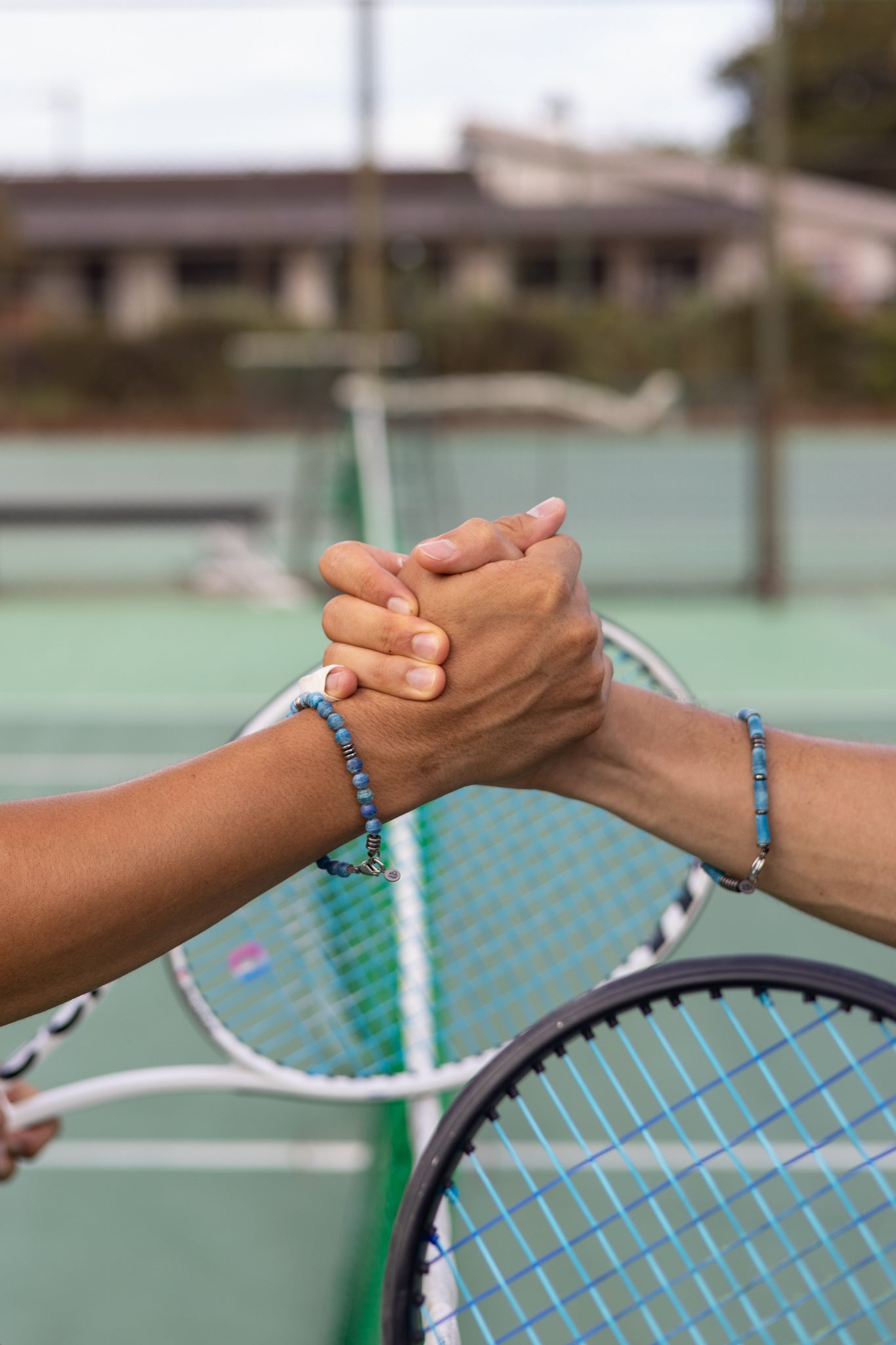 JOIN US
At ReString we are focused on building long term relationships with our stakeholders. Don't hesitate to reach out - let's connect!
CONTACT US